Explore the Academy Archive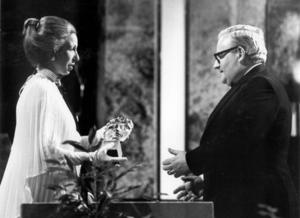 BAFTA Archive
For the first time, we open-up the BAFTA Archive to provide a first look into the wealth of material which charts our organisation's rich history.
Explore our image galleries, browse digitised documents and watch historical clips from the Academy's past.
Archive Features
FEATURES

BAFTA Publishing 2008
Academy Annual Review 2007/2008
Are you just Watching or Learning? Download the Annual Review.

BAFTA / Marc Hoberman
Storyboarding for Beginners with Temple Clark
Find out more about this exciting BAFTA Families event.

BAFTA Archive
SEARCHABLE AWARDS DATABASE
Explore winners and nominees from the past sixty years.
OUR AWARDS
The British Academy Television Craft Awards honour the unseen heroes of television, those who tirelessly work behind the camera. The Craft Awards in 2008 took place on Sunday 11 May.
Since 1954 the British Academy Television Awards have been recognizing outstanding achievement in television. The Television Awards in 2008 were held on Sunday 20 April.
The next Orange British Academy Film Awards will take place on Sunday 8th February 2009 at the Royal Opera House in London.
Last Year's Highlights:
The British Academy Video Games Awards in association with PC World celebrated artistic, creative and technical achievement in the year's best video games.


Watch the Awards online
The British Academy Children's Awards in association with Electronic Arts took place Sunday 26 November. The Awards recognise excellence at a time when the challenge of educating and entertaining children has never been so great.