EA BAFTA Kids' Vote
10 June 08
Last year, thousands of children voted for their favourite film of the last twelve months in the BAFTA Kids' Vote. The popularity of the award demonstrates just how much young people like to have their say.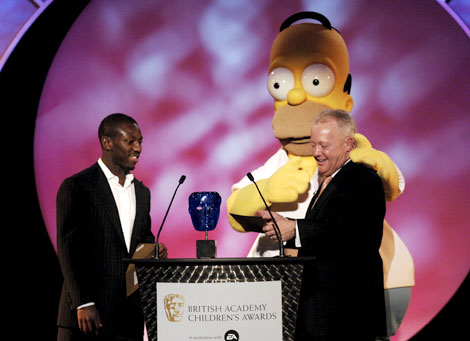 Richard Kendal / BAFTA Publishing 2007
Our sponsor EA ran a fantastic competition supported by the film companies and children around the country voted The Simpsons Movie as their favourite film of the year. The winning film was announced at the Children's Awards.
This year's EA BAFTA Kids' Vote will once again empower children to have their say, but this time, reflecting the growing range of leisure options open to children, the competition will embrace film, TV programmes, video games and websites. A specially-selected panel of experts will provide a shortlist of the top box-office performing U/PG/12/12A family-oriented films on release from 1 August 2007 and 31 July 2008, the top-rated children's programmes, the best-selling children's video games and the most visited children's websites. Children aged 16 and under will be eligible to vote. Watch here for more information.
This year's EA British Academy Children's Awards will take place on Sunday 30 November 2008 at the London Hilton on Park Lane.
ADD TO DE.LI.CIOUS Digg it share on Facebook ( What is this? ) Printable Version