Behind TV: Kids Stuffed
28 September 07
As Ofcom moots the possibility of "public intervention", Matthew Bell reports on the crisis in children's programming and asks, "Who can save kids TV?"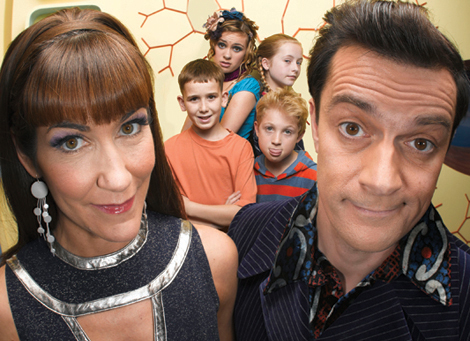 From Trumpton to the Teletubbies, children's telly has long been a UK success story. Pre-school shows such as Bob The Builder and Tweenies have been sold around the world, while dramas and comedy from Grange Hill and My Parents Are Aliens to Tracy Beaker_and _The Worst Witch enthralled older kids.
It may seem surprising, therefore, that kids' TV is currently in an acknowledged state of crisis. Annual spending on original programming has fallen from £110m in 1998 to just under £90m in 2006.
Over this period, the BBC is the only broadcaster to have increased spending. ITV has now ceased home-grown production, leaving just BBC and Five as the only terrestrial broadcasters still commissioning original output.
ITV, though, is not the only guilty party, according to Julian Scott, head of children's programming at Coolabi Productions and deputy chair of BAFTA's children's committee. "Everyone made a big song and dance about ITV pulling out of kids' TV, but Channel 4 did it three or four years ago, and nobody made a big fuss about it.Maybe it should be held to account, too," he says.
Kids telly was dealt a further blow when Ofcom announced a ban on junk food advertising around all children's programming last November. The media regulator estimated this will cost TV £39m in advertising a year. Hardest hit will be the dedicated children's channels such as Nickelodeon and Cartoon Network.
ITV has used the junk food ban as an excuse for pulling out of kids' TV, says Colin Ward from the campaigning group Save Kids' TV. "ITV really wanted to ditch kids from ITV1 so it could compete against programmes like Deal Or No Deal and maximise its advertising revenue. The ban gave them something to blame," says Ward, who has won children's BAFTAs for The Scoop and Raven.
Anne Wood, doyenne of UK kids' TV and the creator of Teletubbies and current CBeebies show In The Night Garden, is one of many anxious producers. In March, the founder of Ragdoll Productions told the Broadcasting Press Guild Awards Lunch of her "deep concern for the future of British children's television. Circumstances that appear to be almost out of our control are making it dangerously likely. It may be already too late. Funding structures have been dismantled, competition to the BBC has been removed."
Specialist children's producers, especially the smaller ones, are suffering. One industry insider estimates that only 20 per cent are currently busy, compared to 80 per cent a couple of years ago. "That's partly to do with ITV's decision not to take original programming but it's also because of the BBC's commissioning policy of 'fewer, bigger and better'. It's putting as much, if not more money, into fewer shows, he says."
The situation is "disastrous for producers of factual and entertainment programmes for six to 12 year-olds. There's zero commissioning other than from the BBC," says John McVay, chief executive of PACT, which represents independent UK TV and film producers.
Pre-school programming, where there are greater merchandising opportunities, has provided some work for indies. Nevertheless, the lack of orders has led to many redundancies. "There is a genuine worry that a production community that has been very creative and passionate about children's programming could be lost," says Ward.
"UK kids' TV is renowned throughout the world. The quality is not in any doubt," argues Ward, who points to BBC4's recent series Children's TV On Trial. "It showed people have a tremendous nostalgia and affection for programmes such as Bagpuss and Byker Grove."
Many people believe Childrens Television is in crisis ... What is not disputable is that it is undergoing a process of profound change
Who can save kids' telly? Political pressure is being applied by a cross-party group of MPs, which has called on Ofcom to ensure broadcasters meet their obligation under the Communications Act 2003 to show "an appropriate range of homegrown children's programmes".
Ofcom may yet ride to the rescue when it completes its review of the state of children's TV. In a series of reports and recommendations due to appear from summer onwards, it will suggest how homegrown production can be secured.
The key questions, according to Ofcom director of market research James Thickett, are "whether the BBC, together with other commercial providers, is enough to guarantee the future provision of high quality, UK originated children's programming. If we do not believe that this is the case, then we need to consider what forms of public intervention might be appropriate to secure this in the future.
"If we're going to have a variety of quality UK-produced kids programming, there has to be a significant commercial competitor to the BBC. The question is how do we achieve that," argues Ward, who adds that it is 'highly unlikely' that ITV will return to the programme-making fold.
Save Kids' TV is floating one idea: a cross-platform proposition with investment from ethical companies. "It's clear there is a move against advertising revenue as a way of funding kids programmes. We have to look at alternative funding models," says Ward.
"Many people believe that children's television is currently in crisis," acknowledged Thickett in a speech to a Voice of the Listener and Viewer conference in May. "What is not disputable is that children's television is undergoing a process of profound change."
If you believe the words of the anti-TV moralists in their house organ, the Daily Mail, our kids are obese, couch potatoes, in thrall to the telly. In fact, kids are watching less television than five years ago, and their viewing habits are changing: they watch more specialist children's telly but less adult TV. They are also shifting from the terrestrial channels' kids programming to the dedicated children's channels available on Freeview, cable and satellite. It is against this shifting background that kids' TV must now operate.
But children's producers argue that kids' TV is different from other genres. Scott says it should be seen as "part of our children's growth and development in terms of their place in society. Is it commercially viable? Not all the time. But is that the only reason why we do it?"
For PACT's John McVay, the issue is wider: "Children's TV is the soft underbelly of public service broadcasting. If we give up on it, what goes next?"
This article first appeared inn BAFTA's member publication, Academy (Vol 2, Issue 16, August 2007).
ADD TO DE.LI.CIOUS Digg it share on Facebook ( What is this? ) Printable Version