Play Time
20 September 07
The EA British Academy Children's Awards now recognise excellence in video games alongside children's film, television and websites. And who better to help judge the year's top games than the children who play them?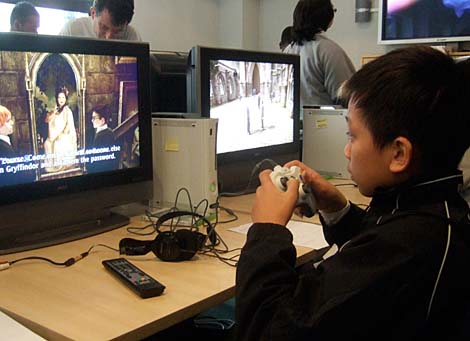 2007 saw the introduction of the Children's Video Game category into the EA British Academy Children's Awards. As with all Awards categories, a jury of expert practitioners evaluated and judged the entries. However, the Academy recognised that many of the best judges are the people who play games at home and felt the jury would benefit from seeing children interact with the shortlisted titles.
Children aged between 7 and 14 from five schools in the Tower Hamlets area of London visited the BAFTA office. Everyone in the focus group was given the opportunity to play games on a variety of platforms including Nintendo's DS and Wii, Sony's Playstation 2 and PlayStation Portable, and Microsoft's Xbox 360.
One of the key questions the children had to answer was: If you were given money to buy one of the games that you tried, which one would it be? A sure indicator of popularity! After an intense afternoon of game playing and argument over the top title everyone left with smiles on their faces, sore thumbs and a BAFTA goodie-bag under their arms.
The video games on the shortlist for consideration in 2007 were:
Buzz! Junior: Jungle Party; Crash of the Titans; Disney Princess – Enchanted Journey; EyeToy: Play Sports; Harry Potter – Order of the Phoenix; Jam Sessions; The Legend of Spyro: The Eternal Night; LEGO Star Wars: The Complete Saga; My Word Coach; PaRappa The Rapper; Pokemon Diamond and Pokemon Pearl; Sonic Rush Adventure
Anne McNulty, Literacy Development Teacher at Central Foundation Girls School, fully supported the intiative: "Offering students opportunities like this are really important. They can get a real feel for the city they live in and get the chance to meet with other students and adults. It is great for their confidence building and communication skills. The students really embraced the tasks and gave some very useful feedback. The day was a huge success and we look forward to the next one!"
The session was run by Glynn Hayward, Creative Director of Complete Control and member of the Academy's Children's Awards and Event Committee. "It was a great opportunity to watch children engage with some of the latest and pre-release game titles. They were an enthusiastic and responsive group and we are very grateful to Tower Hamlets for supporting us with this project."
ADD TO DE.LI.CIOUS Digg it share on Facebook ( What is this? ) Printable Version