Fellow of the Academy in 2008
10 February 08
Anthony Hopkins was presented with the Academy Fellowship at the Orange British Academy Film Awards ceremony at London's Royal Opera House on Sunday 10 February 2008.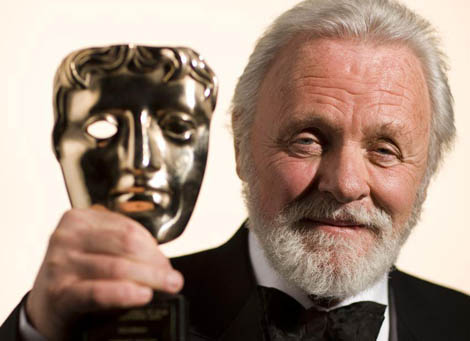 Greg Williams / Art+Commerce
Taking Centre Stage
On taking to the stage Anthony Hopkins stated "Life in this acting game has just been one long, drawn-out surprise." There can be no surprise however as to the Academy's choice of Fellow in 2008. In a career spanning five decades, Anthony Hopkins has become one of the most respected actors of his generation.
At the end of the glittering ceremony, the Fellowship was introduced and presented by Academy President Lord Attenborough. Hopkins put away his speech to first pay tribute to his "unstoppable, indefatigable, extraordinary" friend.
As humble and vivacious as ever he recounted how he first began acting before joking "it sure beats working". Hopkins then thanked the Academy, his wife Stella and all the talented individuals he had worked with before stating "it always has been worth it and it always will be, till I stop".
Finola Dwyer, Chair of BAFTA's Film Committee, said: "I am absolutely delighted that the Academy has presented this award to Anthony Hopkins. Anthony is one of the UK's most loved and admired performers and his contribution to the film industry, both in the UK and abroad, is unrivalled".
Career in Brief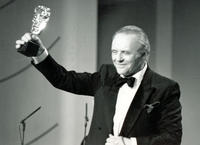 BAFTA ArchiveAnthony Hopkins' extraordinary talent has been recognised by the Academies on both sides of the Atlantic. During his career he has received four BAFTA nominations and won for his performances in The Remains of the Day (1993) and The Silence of the Lambs (1991). He has also received four Oscar nominations and won for his legendary performance as Hannibal Lecter.
He may be best remembered for his lip-smacking portrayal of the insane cannibal psychiatrist but Hopkins has repeatedly proved himself a versatile actor, justly earning comparisons with Sir Laurence Olivier, who spotted Hopkins' talent as a repertory actor early on. Hopkins also shone as Captain William Bligh in Roger Donaldson's The Bounty (1984) and the sympathetic doctor Frederick Treves in David Lynch's classic The Elephant Man (1980).
A Welsh College of Music & Drama graduate, Anthony completed two years mandatory military training before joining Laurence Oliver's National Theatre at the Old Vic. He made his feature film debut in 1968 opposite Peter O'Toole and Katherine Hepburn in The Lion in Winter and received his first BAFTA nomination for his performance.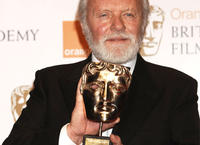 BAFTA / Richard KendalAnthony has received critical acclaim for his diverse performances in films such as Amistad (1997), Nixon (1995), Shadowlands (1993), Howards End (1992), Legends of the Fall (1994) and A Bridge Too Far (1977). Demonstrating immense versatility, he has returned to the stage throughout his career with celebrated performances at the National Theatre in London and on Broadway. He has also worked extensively in television and has won a BAFTA Television Award and two Emmy Awards.
In 2007, Hopkins became a virtual performer, starring in Robert Zemeckis' 3-D CGI extravaganza Beowulf. He also directed, wrote, composed the score and starred in the independent feature film Slipstream.
The Fellowship
Awarded annually in the Gift of the Academy, the Fellowship is the highest accolade bestowed upon an individual in recognition of an outstanding and exceptional contribution to film. Recently honoured Film Fellows include Charlie Chaplin, Alfred Hitchcock, Steven Spielberg, Sean Connery, Elizabeth Taylor, Julie Christie, John Barry, Stanley Kubrick and Judi Dench.
ADD TO DE.LI.CIOUS Digg it share on Facebook ( What is this? ) Printable Version