60 Seconds of Fame
10 February 08
The Academy's short film initiative, 60 Seconds of Fame in association with Orange, offers young filmmakers the chance to shine.
Launched by BAFTA and Orange with Andy Serkis in October 2007, "60 Seconds of Fame" invited budding filmmakers from across the UK to make a 60 second short film based on the theme 'unite'.
The nominated films from fifteen BBC Nations and Regions were screened on BBC ONE's regional and national news programmes and the public voted for their favourite. Over 24,000 votes were cast and the name of the winning film was United (Polar Showtime Dancers) , created by Cheryl Marshall from the East Midlands.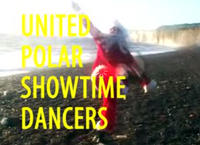 Cheryl Marshall All fifteen regional winners attended the Orange British Academy Film Awards, held on Sunday 10 February at the Royal Opera House in London. The fifteen films were shown on a big screen in the Covent Garden Piazza and the winner was announced by Andy Serkis and Mark Kermode. Cheryl's winning film featured as part of the Orange British Academy Film Awards ceremony broadcast on BBC ONE on the night of the Awards.
The overall UK winner was be chosen by a BAFTA grand jury chaired by Duncan Kenworthy OBE and made up of key industry figures including Tessa Ross, Andy Serkis, Asif Kapadia, Paul Webster and BAFTA-winning short filmmaker Asitha Ameresekere.
The purpose of the "60 Seconds of Fame" intiative run by BAFTA and Orange is to support creativity and to actively encourage the public to participate in the filmmaking process. With 'Top Tips' from Colin Firth, David Cronenberg and Sir Ben Kingsley, as well as behind the scenes footage from real film sets, the "60 Seconds" website provided great tools and technical guidance for aspiring filmmakers.
ADD TO DE.LI.CIOUS Digg it share on Facebook ( What is this? ) Printable Version