Experience the Awards
15 January 08
This year you can experience the glamour and excitement of the Film Awards like never before. Be the first to see the stars arrive on the red carpet.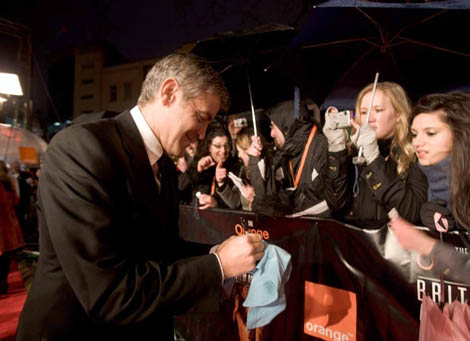 © Greg Williams/Art + Commerce
Take your place beside the Red Carpet!
Once again BAFTA is offering the opportunity for film fans to get up close to the favourite stars and welcome then to the Orange British Academy Film Awards.
Please note:
There will be no access without a wristband. The wristbands will allow access to the Public Pens only.
Wristbands will be available from the Public Queuing Area under the colonnades of the theatre Royal on Russell St from 10am on Sunday 10th February (see attached map).
The Pens will be filled from the south side of the Red Carpet from approx 2pm.
Wristbands will be issued on a first come, first served basis – one wristband per person.
The wristbands will be placed on the spectator immediately; you will not be allowed to take open wristbands away.
The Police and BAFTA security will give instructions on the day to help you safely into the Pens. Please listen to the instructions they give you.
There will be random bag searches of all public in the Pens. Please bring as little baggage as possible.
Please remember that BAFTA cannot guarantee the weather – please dress appropriately!

Download a map of the area (85 KB)
Please Note: Ticket holders for the Piazza Big Screen will NOT be able to also watch the Red Carpet Arrivals from the pens
Limited Disabled Access is available, please contact Helen Slater at BAFTA for further information on 020 7292 5819 or email helens@bafta.org .
ADD TO DE.LI.CIOUS Digg it share on Facebook ( What is this? ) Printable Version