The Film Awards on Tour
25 January 08
To celebrate this year's Orange British Academy Film Awards, BAFTA once again teamed up with The Daily Telegraph and Cineworld to take a selection of nominated films on tour.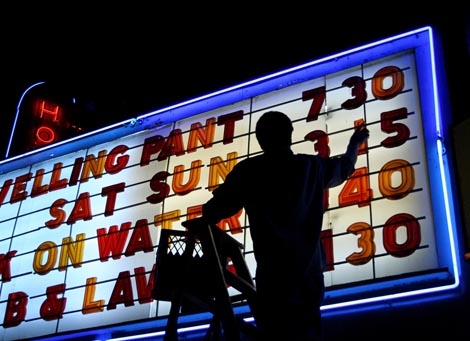 THE ORANGE BRITISH ACADEMY FILM AWARDS ON TOUR IN ASSOCIATION WITH THE DAILY TELEGRAPH AND CINEWORLD
This year's tour gave the cinema-going public a chance to see a broad range of films nominated for the Orange British Academy Film Awards. The list included family films, blockbusters, high-profile arthouse and foreign language titles, many of which were offered uniquely to audiences at the time.
The regional tour ran from 1 - 7 February and over 15,000 people watched the BAFTA-nominated titles.
The tour featured a dozen films including: Atonement, Brick Lane, Control, Harry Potter and the Order of the Phoenix, Juno, Michael Clayton, Pirates of the Caribbean: At World's End, Scott Waker: 30 Century Man, Spider-Man 3, Taking Liberties, The Bourne Ultimatum, The Lives of Others, This is England.
The Daily Telegraph, which has more cinema goers than any other quality newspaper offered its readers free tickets to the screenings through vouchers in the newspaper and online at telegraph.co.uk. The tour took place at Cineworld cinemas in the following sites across the UK: Bolton, Bristol, Cambridge, Cardiff, Cheltenham, Chichester, Didsbury, Edinburgh, Enfield, Ipswich, Milton Keynes, Nottingham and Wandsworth.
Details of the screenings were listed on the BAFTA website, in The Daily Telegraph, online at telegraph.co.uk and at www.cineworld.co.uk nationwide.


ADD TO DE.LI.CIOUS Digg it share on Facebook ( What is this? ) Printable Version