Experience the TV Awards
04 March 08
BAFTA is once again offering TV fans the chance welcome their favourite stars to the British Academy Television Awards supported by Sky+.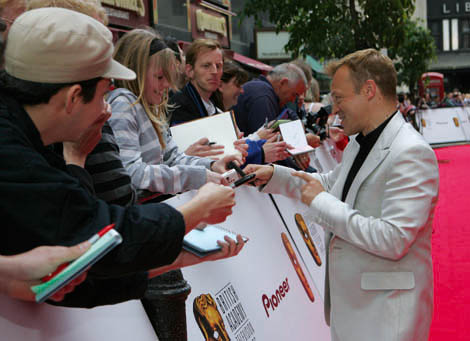 BAFTA / Marc Hoberman
As in previous years, there will be a number of opportunities for the public to watch the stars walk the red carpet outside the Palladium
Information
Viewing will be possible from the designated areas only.
The viewing areas will be filled from Great Marlborough Street after 2.00 pm. Please queue in Great Marlborough Street as directed by the Police and BAFTA Security.
Places in the viewing areas will be on a first come, first served basis.
The Police and BAFTA security will give instructions on the day to help you safely into the Pens. Please listen to the instructions they give you and inform them if you have any problems or queries.
There will be random bag searches of all public in the Pens. Please bring as little baggage as possible.
Please remember that BAFTA cannot guarantee the weather – please dress appropriately!
Disabled Access
Limited Disabled Access is available, please contact Helen Slater at BAFTA for further information on 020 7292 5819 or email ( helens@bafta.org ).
ADD TO DE.LI.CIOUS Digg it share on Facebook ( What is this? ) Printable Version