The BAFTA/LA Cunard Britannia Awards
01 November 07
Denzel Washington, Martin Campbell, Kate Winslet, Richard Curtis and New Line's Bob Shaye & Michael Lynne were honoured at this year's BAFTA/LA Cunard Britannia Awards.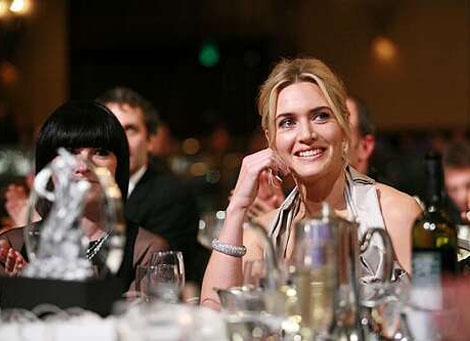 The BAFTA/LA Cunard Britannia Award winners, presented on 1 November 2007: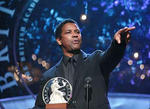 The Stanley Kubrick Britannia Awards for Excellence in Film
DENZEL WASHINGTON
"Denzel is a remarkably talented actor who always entertains the audience with the rich array of characters that he has portrayed on screen," states BAFTA/LA Chairman Peter Morris. "As both an actor and director he continually takes on challenging projects and we are thrilled to honor and celebrate his immense talents."
The John Schlesinger Britannia Award for Artistic Excellence in Directing
MARTIN CAMPBELL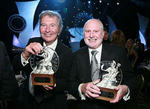 The Britannia Award for British Artist of the Year
KATE WINSLET
Cunard Britannia Award for Lifetime Contributions to International Film
NEW LINE CINEMA'S BOB SHAYE & MICHAEL LYNNE
The BAFTA/LA Humanitarian Award presented by Volvo
RICHARD CURTIS
On 1 November, a host of stars gathered at the Hyatt Regency Century Plaza in Los Angeles to honour five outstanding individuals from the world of film.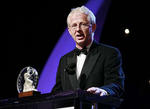 Presented by BAFTA-winner Michael Sheen, the Cunard Britannia Awards are BAFTA/LA's highest accolade and celebrate those who have dedicated their careers or corporate missions to advancing the entertainment arts.
The ceremony continues the tradition of inviting esteemed individuals from the world of film to present awards. This year, alongside host Michael Sheen, presenters included Kathy Bates, Pierce Brosnan, Helen Fielding, Jodie Foster, Famke Janssen, Helen Mirren, Bill Nighy, Reese Witherspoon, Paul Bettany, Jennifer Connelly and Julia Roberts.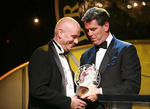 The first Britannia Award was presented in 1989 to pioneer producer of the James Bond films, Albert R. "Cubby" Broccoli. Today, the ceremony includes five awards whose winners are announced prior to the event itself. The gala event is the highlight of the BAFTA/LA calendar, with proceeds raising funds for a number of charitable causes and supporting the Academy's ongoing education, outreach and archival projects.

BAFTA/LA
The Academy's affiliates in the United States, BAFTA/LA and BAFTA East Coast , have expanded our vision of supporting, developing and rewarding excellence in the art forms of the moving image.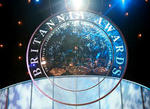 BAFTA/LA is the oldest established affiliate to the Academy. Founded in 1987 it aims to promote, maintain, improve and advance original and creative work amongst those employed in our industries, and who have a close association with the UK industry.
Visit the BAFTA/LA website and explore previous winners or view the full Awards Gallery
ADD TO DE.LI.CIOUS Digg it share on Facebook ( What is this? ) Printable Version