On top of their game
01 October 07
The British Academy Video Games Awards in association with PC World take place on Tuesday 23 October. Find out who has been nominated to receive the games industry's highest accolade.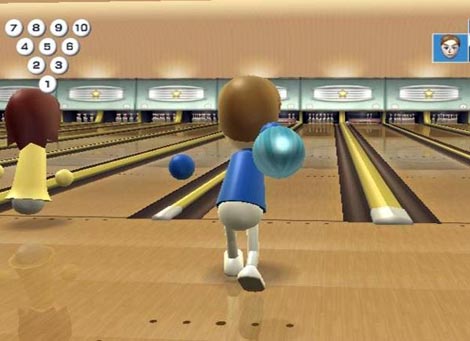 Nintendo
The nominations for this year's British Academy Video Game Awards in association with PC World were announced on 25 September.
With 43 games rated in six different age categories (3+, 7, 12, 15, 16 and 18) the full list of nominations show the diversity of today's video games and their increasing appeal to both sexes and all ages.
Awards will be presented in 13 categories to celebrate the year's top titles and the creativity of individuals working at the top of their game.
In addition, two new awards will be presented:
The BAFTA Ones to Watch Award in association with Dare to be Digital will recognise the best new video games talent in the UK.
The PC World Gamers Award is the only Video Games Award voted for by the public, who pick their favourite title of the year. Click here to view the nominations and vote for your favourite game.
The winners will be announced at the ceremony on Tuesday 23 October 2007 at Battersea Evolution.
Nomination highlights
Wii Sports which enables players to try their hand at a range of sports including baseball, tennis, boxing and golf received the highest number of nominations with an appearance in seven categories.
Crackdown, Gears of War, Okami and God of War 2 all secured five nominations each, while Guitar Hero II garnered four.
The nominations in the Best Game category exemplify the breadth of game-playing genres; from squad action and adventure in Kane and Lynch: Dead Men and Gears of War to battling mysterious undersea creatures in Bioshock, countering alien invasions in Crysis to rocking away in Guitar Hero II or enjoying a workout playing Wii Sports.
In the Sports category, Colin McRae's racing game Colin McRae: DiRT, is joined by the off-road rally racer MotorStorm, FIFA 08, Football Manager 2008, Wii Sports and Virtua Tennis 3.
In the Innovation category the nominations spanned the sensory experience of aquatic critters in flOw, the nature adventure game Okami, the quirky role-playing Super Paper Mario, the card battle game The Eye of Judgement, Trauma Center: Second Opinion, and Wii Sports.
View the full list of Award nominations
ADD TO DE.LI.CIOUS Digg it share on Facebook ( What is this? ) Printable Version