The British Academy Video Games Awards in 2007
24 October 07
Wii sports triumphed at this year's British Academy Video Games Awards in association with PC World. Head of Awards, Anne-Marie Flynn reports.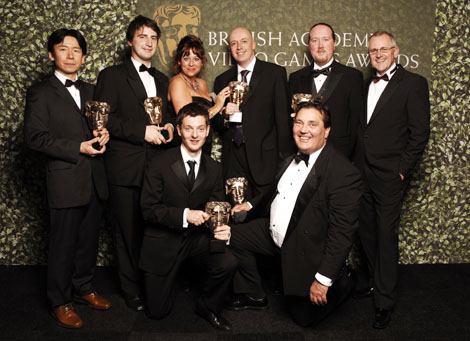 Richard Kendal | BAFTA
Anyone wandering through London's Battersea park on 23 October, and hearing its Evolution venue rocking to the beats of Athlete and Remi Nicole, could be forgiven for thinking that some kind of indie rock event was taking place.
It was, in fact, the British Academy Video Games Awards, in association with PC World.
Hosted by comedian Vic Reeves, these awards are emblematic of a modern Academy, embracing and recognising all art forms of the moving image. Wii Sports dominated the evening, winning six out of the thirteen categories – Gameplay, Casual, Innovation, Multiplayer, Sports, and Strategy & Simulation. In this game of universal appeal, players can use the remote as a tennis racquet, golf club, boxing glove, baseball bat and bowling ball to emulate the actions in real life sports.
Three other titles claimed two categories each: Crackdown, in which players enforce justice in a crime-ridden metropolis, was victorious in Use of Audio and Action & Adventure, Okami, which centres around a celestial brush enabling players to literally paint things into their world, took the coveted mask in the categories of Artistic Achievement and Original Score, while the mythological, high-octane, God Of War 2, sequel to the 2005 title, won for Story & Character and Technical Achievement. The Best Game award went to Bioshock, whose players explore a ruined seascape, using myriad tools and weapons, to battle mysterious creatures.
continued...
The one publicly-voted award of the night – The PC World Gamers' Award – went to the popular Football Manager 2007, fighting off competition from Dr Kawashima's Brain Training, FIFA 07, Gears Of War, Grand Theft Auto: Vice City Stories, Resistance: Fall Of Man and Wii Play.
This year's ceremony also included a brand new prize – The BAFTA Ones To Watch Award. To nurture the up-and-coming stars in games, the Academy worked with the University of Abertay and its Dare To Be Digital competition, for graduates designing a new game prototype. The winning game was Ragnarawk, designed by the Voodoo Boogy team. In addition to collecting their award, they were also each gifted a state-of-the-art gaming PC from Packard Bell.
It exemplifies the limitless potential of video games to enlighten as well as entertain...
The climax of the evening saw gaming legend Will Wright receive the highest accolade the Academy can bestow, the Fellowship . Although he has worked on a number of hugely successful games, among them Raid On Bungling Bay (1984), SimCity 2000 (1993) and SimCity DS (2007), he is best known for one of the best-loved games franchises in history, The Sims – a game whose inspiration sprang from a combination of the aforementioned titles.
On receiving his Fellowship, Wright said "This award, as much as it is a personal honour, actually gives me a lot of pride for our industry, to see that we are getting recognition, that games are a culturally significant art form and can really have a positive benefit on society. I thank BAFTA deeply from the bottom of my heart."
Wright, who also delivered the sector's first Annual Lecture at 195 Piccadilly the following night, is one of the world's leading visionaries in video game design. His next project, Spore, enables players to create and breed species of living, breathing, unique creatures in the space of seconds. It is this kind of inspiration which exemplifies the limitless potential of video games to enlighten as well as entertain, and that is why the Academy is so dedicated to encouraging creative excellence, for the benefit of a rapidly growing audience.
The Academy would like to thank its new headline sponsor PC World for its enthusiastic support.
The Video Games Awards were broadcast on E4 and C4 in early November
ADD TO DE.LI.CIOUS Digg it share on Facebook ( What is this? ) Printable Version