What's the Score?
28 September 07
Video Games are now firmly established as a highly desirable destination for top music talent around the globe. As the Academy's Video Games Awards approach, John Broomhall uncovers a hidden industry.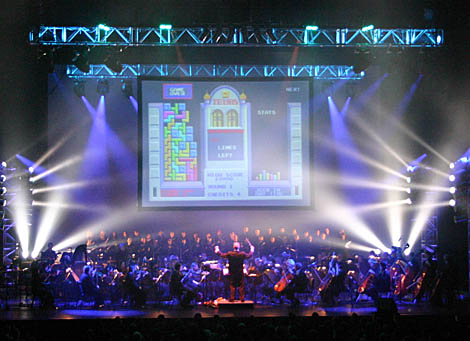 According to Barrington Pheloung, "interactive entertainment is the medium of the 21st century; if Mozart were alive today, I firmly believe he'd be scoring the latest blockbuster video games..."
It's an audacious assertion, perhaps, but one given credence by the growing roster of top film and TV music talent that has already engaged with games – including Danny Elfman, Harry Gregson-Williams and of course, Mr Pheloung himself.
In addition, the games industry has spawned its own extraordinarily talented breed of composers, who grew up immersed in the medium, evolved with it and are passionate about its future.
As Jesper Kyd, who won the BAFTA for Original Score in 2005 for Hitman: Contracts says: "It is very satisfying to see the evolution of music in video games reach new heights.Writing for the interactive medium, presents many opportunities for composing unique music and rivals film soundtracks in production quality. It's arguably the most progressive form of music writing in the 21st century."
With the advent of more powerful consoles, the ongoing removal of longstanding technical barriers is virtually complete, unleashing new possibilities for music to interact much more closely with game-play and drama. So, while games composers still draw much from the established 'rules' and 'grammar' of film, they are, nevertheless, addressing unique creative challenges in ever more intricate and intelligent ways.
"Of course, if the player is the protagonist, you have to ask yourself; 'Who's the music for and whose story are you telling?" says James Hannigan, current composer on the Harry Potter series for Electronic Arts.
BAFTA-nominated four times, and a shared winner for Theme Park World, he adds: "Film is a passive medium; games are an active or interactive medium. So the traditional, functional use of film music to aid the audience's interpretation of drama, action and dialogue does not entirely translate to games.
"Broadly tapping the emotional language of film is one thing but what motivates music for games, why it is even there, is another. If music appears to be 'imposed' on a game it can actually serve to push players 'out' into the role of audience – and you may as well be making a film.
"Yet, without music at all, the game risks being emotionally sterile. A more practical problem can also be the indeterminacy of scene length: there's no way of knowing how long the player will linger in a particular area."
Richard Jacques, another multiple award-winning composer currently working on titles including Eight Days and Mass Effect continues: "As a composer, I want to reflect the drama, tension, emotion or even characterisation in a score but, unlike film, it's not so easy due to the unpredictability of games. The timing of key dramatic moments is ultimately determined by the player, so I often have to look at my music and break it up into component parts to be triggered and manipulated depending on the player's actions at any given moment."
Enter so-called 'interactive music'. In increasingly sophisticated next-gen productions for the latest console formats (XBOX360,Wii and PlayStation 3), audio directors and composers are working hard with programmers to devise complex replay systems where pools of smaller music segments can be continually spliced together in different permutations. This provides greater variation and seamless branching to alternative musical moods and intensities.
The advent of more powerful consoles has unleashed new possibilities for music to interact with game-play and drama
Additionally, recordings can be held in layered form so that multiple musical parts (e.g. strings, brass, percussion) are played simultaneously with each one raised or lowered in volume by the game's intelligent music 'engine' which itself is responding onthe- fly to the player's actions and outcomes – a dynamic system that can swiftly respond to the game during 'run time'.
But games music is not just about original scoring.Many sports games and driving simulations feature a selection of popular music tracks, specifically licensed to provide the appropriate mood and pace. Such are the popularity and penetration of video games in today's entertainment market that EA's Worldwide Executive of Music, Steve Schnur, has claimed that record labels sometimes build album launches around a band's inclusion in, say, a top EA sports title due to the massive exposure the game will provide.With songs being repeatedly heard and identified onscreen during 40-50 hours of play in games selling millions of units – and each copy played by an average 2.5 people - the maths speaks for itself.
In licensed music too, innovation is taking place. Alastair Lindsay, Sony Computer Entertainment Europe's Music Manager, says: "The boundaries between composer and recording artist are becoming blurred with the increased use of interactive music.
"Very little can be done interactively with a straight licensed stereo track, so nowadays we are working with recording artists in the same way as we do with composers. Having tracks exclusively written for our games, and being given the multi-tracks to use with our interactive music player, means we can create a more engaging and interactive soundtrack but still have that 'licensed' music element."
In recent times, games music has also found itself centre-stage around the world, courtesy of Tommy Tallarico and partner Jack Wall whose 'Videogames Live' extravaganzas feature a symphony concert of games music complete with lasers, lights and stunning projected games footage, proving a huge hit with games fans and non-gamers alike (the inaugural Hollywood Bowl event alone attracted an audience of some 11,000).
As scores for the latest console platforms go from strength-tostrength, there can be little doubt their impact will continue.With fidelity and technical restrictions no longer significant issues – at last, it's the power of ideas that really counts.
John Broomhall is a leading expert and commentator on music and sound for games who has himself written music for many titles. A past shared BAFTA winner, he sits on the Academy's Video Games Committee and has chaired previous BAFTA audio-related awards and events.
This article first appeared in BAFTA member publication, Academy (Vol 2, Issue 17: October 2007).
ADD TO DE.LI.CIOUS Digg it share on Facebook ( What is this? ) Printable Version