Will Wright - Video Games Lecture in 2007
24 October 07
Watch legendary games designer and Academy Fellow Will Wright present the annual Video Games lecture.


Supported by The Farm Group.
The British Academy Video Games Awards in association with PC World took place on Tuesday 23 October 2007 at Battersea Evolution in London. The Awards celebrate artistic, creative and technical achievement in the year's best video games.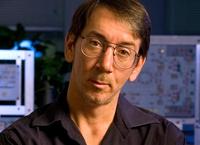 For the first time the Academy's highest honour, the Fellowship , was awarded to an individual from the Video Games Industry - the legendary games designer Will Wright . Responsible for gaming classics such as Sim-City and The Sims Will Wright has been at the forefront of Video Game design for over twenty-five years.
The day after the Awards the games guru took to the stage at the Academy's Headquarters, 195 Piccadilly to present the annual Video Games lecture.
Wright discusses the power of imagination, the nature of learning and the possibilities and pitfalls of storytelling in interactive entertainment.
ADD TO DE.LI.CIOUS Digg it share on Facebook ( What is this? ) Printable Version